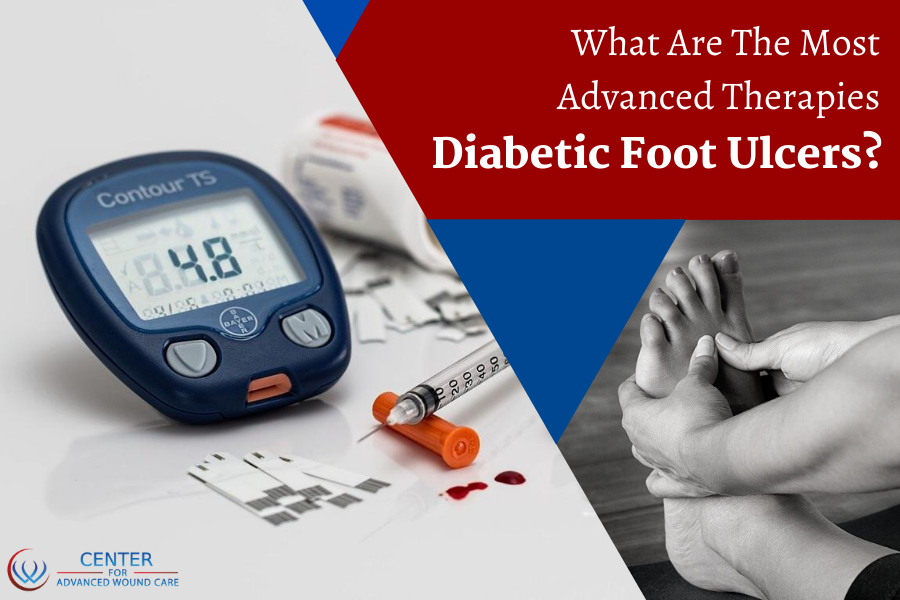 What Are The Most Advanced Therapies For Diabetic Foot Ulcers?
High-level wound care techniques have evolved when it comes to healing chronic wounds. Nevertheless, diabetic foot ulcers (DFUs) might turn out to be complicated, and not all patient gets benefitted by the same therapy. Using a patient-centered strategy in the Best Clinic for Diabetic Leg Ulcers treatment Camarillo is essential for choosing appropriate procedures and getting the best potential outcomes.
Learning the pathophysiology of diabetic wound chronicity and recognizing the particular patient's requirements are crucial elements for DFU supervision. The fundamental goal needs to be wound closure while further limiting recurrence. To accomplish both aims, clinicians need to include ongoing training and medical support. Top Diabetic Leg Ulcers surgeon in Ventura should keep up with the most advanced evidence-based analysis and applications to choose the best-advanced approach.
Also Read: All You Need To Know About Wound Healing In The Time Of Covid-19
Diabetic Leg Ulcer Management
Before choosing a high-level therapy approach for a patient, clinicians need to use a standard of care treatments initially. In some instances, the standard of care might be sufficient to promote wound closure. However, if it does not work, clinicians might be capable of assessing what areas of the standard of care have been neglected to choose the therapy to help the injury adequately achieve closure. Read on to find the most advanced methods that can suffice this problem in Oxnard.
Diabetic Foot Ulcer Management | Advanced Therapies
After practicing standard care practices, the best Diabetic Leg Ulcers specialist in Oxnard can then decide whether it is suitable to practice an advanced treatment. Treatment choices will differ according to the patient and the wound's requirements.
Growth Factors
 Becaplermin 0.01% is the recombinant human platelet-derived growth factor (rhPDGF-BB) licensed by the Food and Drug Administration (FDA) and adopted in cases of full-thickness lower-extremity diabetic ulcers by sufficient blood flow. It is a topical agent that stimulates and strengthens the wound treatment process.
Medical trial data confirmed that becaplermin benefits in reducing the danger of amputation, plus more than one-third DFUs treated in the existing group with regular RH PDGF-BB Vs. The Placebo limitation group. At week 20.1, Becaplermin has been confirmed to contribute a 43% greater healing rate for neuropathic ulcers than a placebo gel.
Collagen Products
 Many collagen dressings happen to be derived from a mixture of sources, like porcine, bovine, equine, plus avian. Collagen-based dressings come in pads, particles, gels, and paste types based on the company selling them. DFUs are identified to come with a continued inflammatory response plus extracellular matrix (ECM) irregularity. Collagen dressing companies support and formulate a scaffolding model that controls extracellular components, consequently moving chronic injuries toward closure.
Tissue-Based and Cellular Products
 Placental/amniotic/chorionic–derived, cellular, and acellular-based, products happen to be on the FDA-approved schedule by Doctor for Diabetic Leg Ulcers treatment in Camarillo for evidence-based approach DFUs. There happen to be shreds of evidence implying a reduced chance of amputation and enhanced wound closure associated with universal wound care norms. Tissue-based results or skin replacements provide collected skin cells, like fibroblasts and keratinocytes, to increase tissue reconstruction. These bioengineered outputs consisting of physical and or artificial materials generate an ECM when it comes to tissue growth.
Final Remarks
These are some of the most advanced therapies conducted by expert healthcare professionals in Camarillo. For more information, feel free to reach out to the Center for Advanced Woundcare in Oxnard and Camarillo.