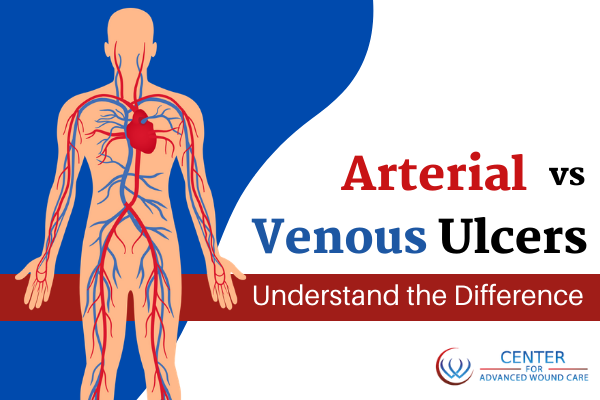 Arterial Vs. Venous Ulcers – Understand The Difference
Ulcers can be defined as open wounds in the skin or mucous membranes. It is sometimes long-lasting. When it does not have even after 5-6 weeks it can be termed as a non-healing or slow healing wound. This mostly occurs in legs or feet.
Looking for Best Arterial Leg Ulcers specialist in Oxnard? Well, there are plenty but first, you need to know what ulcer is and the difference between arterial and venous ulcers. People mostly confuse between arterial and venous ulcers. Go through this article to know the difference between them.
What is Arterial Ulcer?
An arterial ulcer is mainly caused due to the result of damaged arteries or any sort of injuries in them. This mainly develops due to the deficiency of blood flow to the tissues. You are sure to get the Best Clinic for Arterial Leg Ulcers Ventura.
What is Venous Ulcer?
Venous ulcer is caused due to the damage caused to the veins. The main reason behind this is the deficient blood which is returning back to the heart.
Also Read: What Are The Most Advanced Therapies For Diabetic Foot Ulcers?
The Difference between the Symptoms
Even though there is a difference between arterial and venous ulcers, but they have two symptoms in common – swelling and pain. You can get some of the best Doctors for Arterial Leg Ulcers in Camarillo. Rather than this, all other symptoms differ in arterial and venous. Check it out here –
The most common places for the occurrence of arterial ulcers are feet, toes, heels, and ankle but they can occur in other places too. Here are the symptoms of arterial ulcer –
Deep wound
Leg Pain
No bleeding
Hairless but tight skin
Yellow, red, or even black sores
The leg appears pale when moved upwards and reddens when lowered.
Due to deficient blood circulation affected area is cold.
Best Clinic for Arterial Leg Ulcers Ventura
The inner skin of the ankle and below the knee is the most common area of occurrence of venous ulcers. This ulcer is painful and can add discomfort to your body. here are the symptoms of venous ulcer –
Swelling
Discharge
Aching
Swelling
Inflammation
Hardened but itchy skin
Flaking
Black or Brown bruised skin
The Difference in Causes –
The common cause of ulcers is poor blood circulation. The skin and tissue inflame due to the lack of oxygen and nutrition developing an open wound. But there is quite a few difference in the causes of arterial and venous ulcer.
Arterial Ulcer –
Clogged arteries
Vasculitis
Trauma
Smoking
Diabetes
High Cholesterol
High Blood Pressure
Atherosclerosis
Venous Ulcer –
Pregnancy
Heart failure
Obesity
Blood Clotting
Deep Vein Thrombosis
Varicose Veins
High Blood Pressure
Injuries
Trauma
If you are looking for a Doctor for Arterial Leg Ulcers treatment in Ventura then you can check out the Center for Advanced Wound Care. They are the best in town.