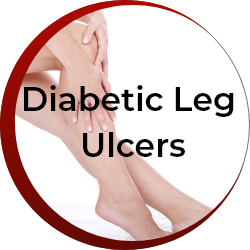 The Wound Treatment Clinic: Essential Care for Diabetic Leg Ulcers:
Introduction
If you're a diabetic, there's a good chance you're at risk for developing leg ulcers. Left untreated, these wounds can become infected and lead to serious health complications.
But don't worry—the wound treatment clinic at Center for Advanced Wound Care can help. Our team of specialists is experienced in the diagnosis and treatment of diabetic leg ulcers and can provide you with the care you need to get your wound healed and prevent it from coming back.
What Are Diabetic Leg Ulcers?
A diabetic leg ulcer is a sore on the leg that doesn't heal within a few weeks. They are caused by damage to the blood vessels and nerves, which can happen when you have diabetes.
If you have a diabetic leg ulcer, it's important to get the right care. That's where The Wound Treatment Clinic comes in. We provide essential wound care for diabetic leg ulcers, including dressings, debridement and more.
What Are the Signs and Symptoms of Diabetic Leg Ulcers?
If you're a diabetic, it's important to be aware of the signs and symptoms of diabetic leg ulcers. The earlier you catch them, the easier and quicker they will be to heal.
Some common symptoms include:
-A sore that doesn't heal
-Redness or swelling around the wound
-Bleeding, drainage or oozing from the wound
-Charcoal-colored skin around the wound
-Warmth or tenderness around the wound
What Measures Can I Undertake to Manage Diabetic Leg Ulcers?
There are many measures you can undertake to help manage your diabetic leg ulcers.
Some of these measures will be:
1) Following your doctor's instructions carefully. This is perhaps the most important thing you can do, as it will help ensure that your wound is getting the care it needs.
2) Keep your wound clean and dry. This may involve changing your bandages regularly, and avoiding letting the wound come into contact with water or other contaminants.
3) Taking good care of your feet. This includes keeping them clean and dry, as well as checking them for blisters, cuts and other injuries.
4) Exercising regularly. Exercise helps improve blood circulation, which can be beneficial for wound healing.
What Treatments Are Available From a Wound Treatment Clinic for Diabetic Leg Ulcers?
At a wound treatment clinic, you may receive many different treatments for your diabetic leg ulcers. Your doctors will work with you to evaluate the type and severity of your ulcer and come up with a personalized treatment plan.
– Debridement: This helps remove excess tissue from the wound to make it easier to heal. It helps in reducing pain, swelling, and inflammation.
– Bandaging: Wound dressings can help protect the wound while it heals, reduce infection risk, and keep it clean. Bandages can range from simple gauze pads to more complex products like foam dressing or alginate dressings.
– Topical Medication: The doctor may apply topical medications such as antibiotic ointments or gels directly to the wound. These medications can help reduce pain, fight bacteria, and speed up healing.
– Compression Therapy: Compression therapy involves tight wrapping of the wounded area with special bandages to reduce swelling and improve circulation. This helps improve healing time and keeps the wound from exacerbating due to movement or pressure.
MEET DR. SHAH – Center For Advanced Wound Care
Dr. Shah is a board-certified physician, specializing in Phlebology, Cosmetic and Laser surgeries. He is a highly experienced physician with expertise in Venous disorders, Aesthetic Surgery, Regenerative Medicine and Stem Cell Therapy.
Dr. Shah utilizes an individualized approach for all of his patients, providing unparalleled extensive insight into their treatment plan. He is well trained in medical and cosmetic vein procedures, non-surgical facelifts, liposuction and body contouring techniques, autologous fat grafting, having learned them directly from nationally and internationally recognized cosmetic surgeons. Given his vast knowledge base, he understands the importance of choosing the right treatment plan that will fulfill your medical and/or aesthetic needs.
Dr. Shah is a diplomate of the American Board of Laser Surgery and American Board of Venous and Lymphatic Medicine. He is one of the few physicians nationwide who is certified by the American Board of Venous and Lymphatic Medicine, demonstrating expertise in the understanding and treatment of venous conditions. He is a Registered Physician in Vascular Interpretation (RPVI), certified by American Registry for Diagnostic Medical Sonography.
Conclusion
If you have diabetes, it's important to seek medical attention for any open sores or wounds on your body. At the Wound Treatment Clinic, our skilled team of wound specialists can provide the essential care you need to heal your wounds and prevent them from becoming worse.
We offer a variety of wound treatments, including wound dressings, debridement, and skin grafting, and we will work with you to create a personalized treatment plan that meets your unique needs. We also offer outpatient care, so you can get the treatment you need without having to leave home.
If you're looking for treatment for diabetic leg ulcers, the Wound Treatment Clinic is the best place to go. We offer the latest in wound care technology and treatment options, and we will work with you to ensure that you receive the care you need to heal your wounds.